Brooklyn Leather Upholstery Cleaning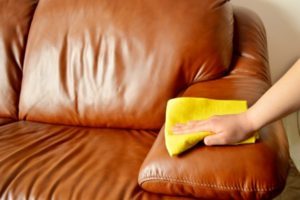 No matter where it's located in our home or place of business, a leather piece of furniture is often the focal piece of the room, offering a timeless touch of elegance to our décor and a comfortable place to relax.
However, as anyone who's owned a leather couch, chair or sofa knows, these furnishings require special care in order to maintain their luxurious appearance.
Over time, your favorite pieces may even show wear and tear – soiling, cracked upholstery and splits in the hide are all signs of aging that simply cannot be treated with ordinary household cleansers.
Although a damp cloth and some wax may keep them free from dust, your leather upholstered furniture needs a more refined and advanced maintenance regime.
Store-bought cleansers and polishes aren't the most effective ways to care for your leather-upholstered furniture, since they merely sit on the surface of the hide, preventing the leather from 'breathing' and inadvertently causing additional damage to your furniture.
At Green Choice Carpet Cleaning Brooklyn, we've developed a series of time-tested leather cleaning methods that will safely and effectively cleanse, renew and restore the appearance of your prized leather furnishings, preserving it for years of enjoyment.
Give us a Call Today for a Free Upholstery Cleaning Estimate, it's Quick, and Obligation-Free: 1-718-360-0742