GreenChoice Brooklyn Air Duct Cleaning TM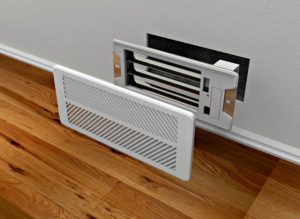 When you clean your home, you want to be as thorough as possible – dusting, vacuuming, mopping and scrubbing the floors and surfaces of your home seem adequate enough. But oftentimes, one of the biggest pollutants in our home or office environment is an invisible problem lurking in our vents – poor air quality. You see, after years of usage, dirt, dust and debris builds up in our air vents, and without proper and frequent cleaning, they can actually contaminate the air we breathe.
According to the EPA, it's suggested we clean our vents and ducts thoroughly every 2 years to guarantee healthy air quality levels. That's when Green Choice can help – our expertise in the air duct cleaning service will ensure your home or office is thoroughly and safely cleaned with all-natural cleansing techniques and state-of-the-art equipment. Forget about trying to clean your vents with a HEPA vacuum or traditional methods – this is a job best left to the professionals. In fact, when performed incorrectly, you can actually stir up loose debris, dust mites and other contaminants that will infiltrate your venting system and actually worsen the air quality. Instead, our highly-trained air quality specialists will evaluate your venting system, examine your air ducts, and determine a cleansing routine that's appropriate for your home or office. As a result, you'll alleviate air-borne allergens, years of dust accumulation and other irritants that can trigger a number of health risks, including severe allergies, hay fever, asthma and respiratory disorders.
Questions about our Brooklyn air duct cleaning services? Contact one of our friendly customer service representatives today for a completely Free Duct Cleaning Estimate – it's Fast, Simple and Hassle-Free! 1-718-360-0742