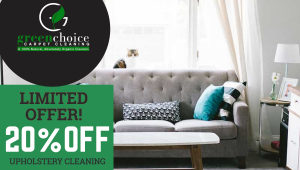 Manhattan's Best Eco-Friendly Upholstery Cleaning Service: Green Choice Carpet Cleaning
If you're ready to give your home a thorough spring cleaning, there's no better way to refresh your surroundings than with organic upholstery cleaning.
Green Choice has designed a completely natural method of cleaning your sofa, coaches, and other upholstered furniture that is both Eco-friendly and beneficial to everyone in your household.
Unlike traditional upholstery cleaning treatments, we don't use harmful chemicals or detergents which can emit fumes into the atmosphere and trigger a host of health problems.
Instead, we've formulated a 100% natural way of cleaning your upholstered sofas, couches, and other furnishings, leaving you with a fresh, green clean that's safe and gentle for the entire family.
Green Choice proudly serves the entire Manhattan area as well as the outer boroughs – our friendly customer service representatives are available 24/7 to accommodate your scheduling needs.
Ready to refresh your upholstered furniture?
Call us today for a Free Upholstery Estimate – it's Fast, Easy, and Obligation-Free!