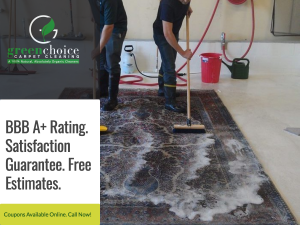 Wool is the premier fiber for luxury rugs because it is very soft yet durable.
But you need to be very careful when cleaning a wool rug since using the wrong cleaning solutions can create spots in the rug, or cause color fading and even shrinkage.
At Green Choice, we examine wool rugs individually and form the best process to clean your rug based on its condition, weave, and dye.
You need a trained professional who knows how to evaluate a rug and can properly clean a wool rug and not to use cleaning solutions that would damage the fiber and dyes.
Our rug cleaning staff will clean your rug using 100% certified green carpet cleansers which means no chemicals will used during the cleaning process and when you get back your rug no chemical residue or toxins remain in the fabric.
This removes any potential health risk if you have pets or children of if you just want to protect your home environment.
GreenChoice's staff has decades of experience and you can rest assured that your rug will be handled by experts, who have decades of wool rug cleaning experience.
After you experience our professional service you will see why Green choice is the premiere wool carpet cleaning service in New York City.