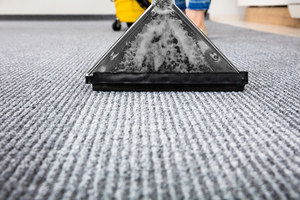 At Green Choice Carpet Cleaning, we only use cleaning solutions that have been certified by a respected third party.
We are proud to use only these green cleaners with our valued clients.
Steam Cleaning. Our steam cleaning product is designed to give you maximum cleaning power but without harsh chemicals and VOCs.
It meets and exceeds Green Program Guidelines.
If you want steam cleaning done in your home but are concerned about the effects of chemicals, then our green cleaner is the right solution.
Deep Shampoo Cleaning. If you need a deep cleaning to remove heavy dirt, stains and odors from your carpets, then our shampoo will do the job without the use of harsh chemicals.
Our deep cleaning shampoo will lift out dirt and stains from your carpet so it will look like new again.
It has a mild PH with means it can be used even on delicate fabrics including wool.
Because it is a green product, it does not leave a sticky residue like chemical cleaners.
Carpet and Upholstery Deodorizing. No matter how hard you try, your carpets and upholstery can pick up unpleasant odors from pets or spilled food and drinks.
But effectively removing odors is not an easy task.
Green Choice has the knowledge to remove odors thanks to our advanced green cleaning methods.
Our deodorizing services are based on using powerful green cleaners to remove organic odors completely from your carpets and upholstery.
We do not use toxic chemicals to remove these odors but only certified green cleaners.
Carpet and Rug Spotting for Stain Removal. In order to remove tough stains, a good spotter is an essential tool.
Our spotter is the perfect tool for wool and synthetic fiber carpets and rugs.
Even though our spotter can help remove the toughest stains, it is a green certified product and meets and exceeds guidelines for green cleaners. It is VOC compliant and biodegradable.
If your rug or carpet has stains you cannot remove, then call Green Choice and our technicians will remove those stains and make your rug or carpet look new again.