If your area rugs are placed in a high traffic area or if you have toddlers or pets at home, chances are that your rug is not in the best shape; it may be stained and its appearance must have been significantly worn out.
Oriental rugs are expensive to replace, which is why you have to constantly be on your guard and assess whether or not they have gotten stained or are losing their luster.
Whether you want it or not, messes happen.
Red wine might accidentally get splurged onto your beloved rug, or your child may have smeared some paint on the material while being engaged in his crafty endeavors.
However, worry not!
Cleaning a rug isn't as difficult as it seems.
ALSO READ: How Often Should you Clean your Rugs?
Area Rugs
Is it possible that your area rug could benefit from a deep cleaning?
Learn how to clean a rug and you'll be able to revive all of your floor coverings whenever you choose.
Area rugs may compose a room, but they are prone to everything from foot traffic to pets to stains.
Vacuuming isn't enough to clean things properly after a while, which is where understanding how to do it yourself is helpful.
Cleaning your area rug is a simple task that you can complete on your own.
ALSO READ: How to Extend the Lifespan of your Rug?

1. Vacuum Away any Loose Dirt
Begin by vacuuming both sides of the area rug thoroughly.
Don't forget about the backside, which collects dust and grime.
2. Check the Cleaner's Colorfastness on your Rug
When it comes to cleaning, you have two choices:
A store-bought rug cleaner or shampoo can be mixed according to the manufacturer's directions.
Alternatively, a bucket of warm water with a couple of capfuls of mild liquid dish soap might be used. Hot water will shrink the fibers and discolor the color area rug.
Now, test the cleaner on an unimportant rug area, such as a small section at the corner, to ensure that the colors do not wash.
Continue to the next step if it doesn't.
ALSO READ: Facts About Dirty Rugs you Didn't Know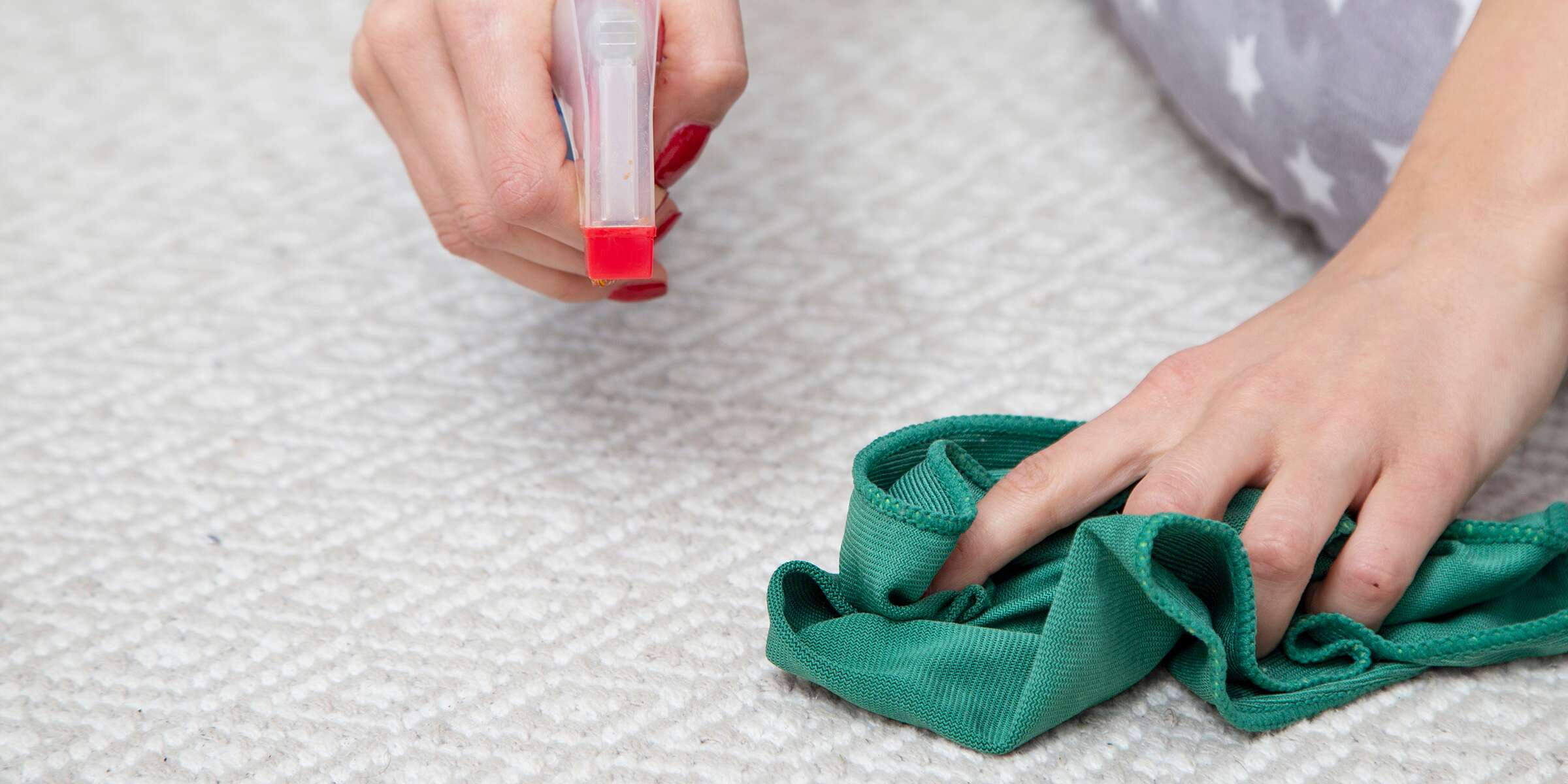 3. Massage the Cleaner into the Rug and Leave it to Sit for a Few Minutes
Scrub the shampoo or detergent into the carpeting with a sponge or brush until suds appear.
Wait for a few minutes for the mixture to soak in the rug before rinsing.
4. Clean the Rug with a Hose
Before you conclude, thoroughly rinse the rug with a garden hose, ensuring the water is free of soap suds. Make sure to get rid of excess water.
ALSO READ: Rug Cleaning Myths
5. Allow the Rug to Dry thoroughly on both Sides
To dry the rug, lay it flat.
Flip it over once the top side has dried to allow the underside to dry.
6. Vacuum or Brush the Rug Again
Vacuum or brush your area rug with a clean soft-bristled brush to loosen up the fibers that may have compressed during the cleaning/drying process.
Also Read: Best Pet Stain and Odor Remover for Carpet Cleaners
Oriental Rugs
Hand-woven Persian carpets tend to collect more dust, though this is dependent on whether or not yours is in a high-traffic area of your home.
If it's in the entryway or an open area of your living room, you'll need to vacuum it every couple of weeks.
If yours is on display in the guestroom and only gets a few visitors, a vacuum every couple of months should suffice.
It would be best if you struck a balance between vacuuming enough to prevent dirt and grime from accumulating and not vacuuming excessively, which could loosen and harm the rug's natral fibers.
 1. DIY
To begin, vacuum your Persian or other styles of oriental rug to remove dust and debris.
Simply place yours on the floor and vacuum both sides of it.
Slowly proceed around the room, removing the beater bar from your vacuum and using a low pile carpet attachment if you have one.
Working in the direction of the rug's fibers, remove all dust, pet hair, and dirt.
When it comes to fringing, be cautious because it can easily get trapped.
You can simply sweep your rugs if your vacuum is a touch too forceful.
Brush from one side to the other in the direction of the fibers, using a broom with soft straw bristles.
You can also shake and gently beat your rug outside if you have the space.
Wash off the loose dirt and soap with extra water, squeegeeing off as much as possible and allowing it to air dry out of direct sunlight.
If you're drying yours inside, make sure the space is well vented.
ALSO READ: DIY Rug Cleaning Hacks to Keep your Rugs Clean
2. Use Vinegar
In place of the detergent mixture above, a vinegar and water solution is a great and natural way to clean oriental rugs with a musty odour.
Cleaning with vinegar is also an excellent technique to remove stains.
So, whether you have dog urine, fatty food, or other unpleasant and odorous stains, the first step is to blot them.
Then, as described above, apply the white vinegar and warm water solution directly to the affected region.
Combine 1/2 teaspoon pH-neutral detergent for greasy spills, 1/4 cup white vinegar, and some warm water in a spray bottle.
ALSO READ: Biggest Rug Cleaning Mistakes to Avoid
3. Professional Cleaning
Suppose your oriental rug is hand-woven and stained with red wine.
In that case, it's advisable to see a professional because they'll know how to avoid interfering with the rug's colors, especially if they're made using pure organic dyes.
If yours is made of silk or fine synthetic material, it will feel similar. If the latter is the case, a professional deep clean every couple of years is recommended.
Also Read: How to Deep Green Clean Carpets?
Recommended Measures to Take Care of your Oriental Rugs
Vacuum only when absolutely necessary: Also, if your rug is made of wool, vacuuming it too much can cause the fibers to become compacted.
Keep them away from direct sunlight as much as possible: You don't want to risk bleaching any of your rug's excellent colors by exposing it to too much harsh direct sunshine.
Remove your shoes: Bringing mud and other dirt indoors and onto your oriental rug can cause an accumulation of grime, which can lead to unpleasant stains.
Pets must be kept away: Pets like to scratch, dogs like to pee in strange places, you get the idea. It is highly recommended to avoid having pets on your oriental rugs if you can.
Have any questions regarding How to Clean a Rug: Area rugs, Oriental rugs? Feel Free to comment below.
Green Choice Carpet Cleaning is one of the best rug cleaning in Brooklyn. We ensure to provide the most hassle-free cleaning service, at affordable pricing, using safe green cleaners. To get our service contact us.